Record. Browse. Upload. Run.

That's how simple it is to create a test with BlazeMeter's Google Chrome extension.

The extension records all of the HTTP/S requests that your browser makes, creates a JMeter script, and automatically uploads it to BlazeMeter, where you can execute it with a single click.

No need to install JMeter to record or run a performance test, the Chrome extension will create the JMeter script automatically.

If you do have JMeter installed, you can convert your recording into a JMX file and use it on your local computer.

What's New in BlazeMeter's Chrome Extension V1.5?

-You can now simulate different user agents.
-Export each browsing session as a .jmx file
- Check out our blog BlazeMeter Chrome extension for more information.

Note:

If you need support or to share feedback with us, please contact support@blazemeter.com.

If you are using a previous version of our Chrome extension, look here for instructions.





Key Features


Record
This button starts the recording. By default, we record ONLY top-level HTTP and HTTPS requests, but you can change this in the advanced options (read below).

Stop
When you are done with your recording, hit stop. No further requests will be recorded, and you will then be able to upload your recording.

Pause
Make sure no unwanted requests get recorded. If you need to make a quick Google search, look around your site for a bit, or do whatever, just hit pause. Hit record again when you're ready to continue. If you forgot to pause and recorded some unwanted requests, no worries. You can later select which requests to include or exclude.

Concurrency Level
If you want to start a test directly from your browser, you can set the concurrency level beforehand by moving the slider or setting the desired level in the edit box.

Load Origin
If you want to start a test directly from your browser, you can set the geographic load origin beforehand by selecting the desired location from the drop down.
*This feature can be used by Enterprise users to test behind the firewall by selecting a private cloud location.

Start
This will create a new a test on BlazeMeter which includes all of the requests in your recording. Once you hit start, the test will begin to run and the requested concurrency level will be simulated from the selected geographical region.

To edit test properties before the actual run, select the "Edit Settings Before Running" check box under advanced properties (read below). (You will be redirected to the standard page editing Blazemeter tests, where you can select your test options and run from the cloud.)

Edit
When you have stopped your recording, you can manually edit your requests, or just view them.
Some common uses at this stage are changing the order of the requests, inserting a new request, or altering the request headers.





Export
Export and save the recording to a local JMeter file (JMX).

Reset
This will clear your recording, and reset any of the advanced options you have selected.

Name
Name your test. If you leave this field blank, we will generate a default name for you.

Note: If you enter the name of an existing test, a new test will be created upon upload; your old test will not be overwritten.

Include Filter Pattern
By default, we don't filter which requests to include in the recording. However, by modifying the regular expressions in this field, you can change which requests your browser will include (only requests which match the patterns will be included). For example, you can only include requests to one domain.

Check out Google's guide to creating these filter patterns. This field is mandatory as you probably don't want to record your Gmail, Facebook or even BlazeMeter traffic.
If you forgot to set this field, DON'T WORRY. You will be presented with the option to select which domains to include and to exclude before the test actually runs.


Advanced Options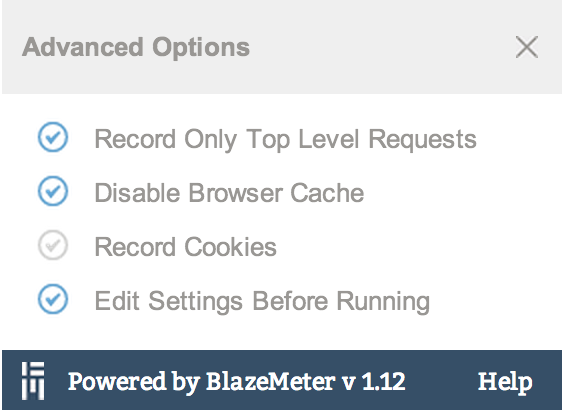 Record Only Top Level Requests
This option deals with how objects which are embedded on the page, such as images, CSS and Javascript files are treated.

If this button is checked:

When the script is recorded it WILL NOT include requests for

referenced objects.

When the script is executed it WILL parse the HTML file and send requests for all referenced objects.




If this button is not checked:

When the script is recorded it WILL include requests for

referenced objects.

When the script is executed it WILL NOT parse the HTML file and send requests for all referenced objects.
Record Cookies
This option enables you to record cookies that are used as part of the recorded traffic. The value of the recorded cookies will be used as the default value for the cookie manager that will be added to the script.

Disable Cache
Setting this option will disable the browser cache during the recording. This option is very important as cached objects are not recorded.



Edit Settings Before Running


Setting this option will enable you to change the test settings before running. Through the BlazeMeter interface you can control properties like ramp up time, test duration, load distribution between engines and much more.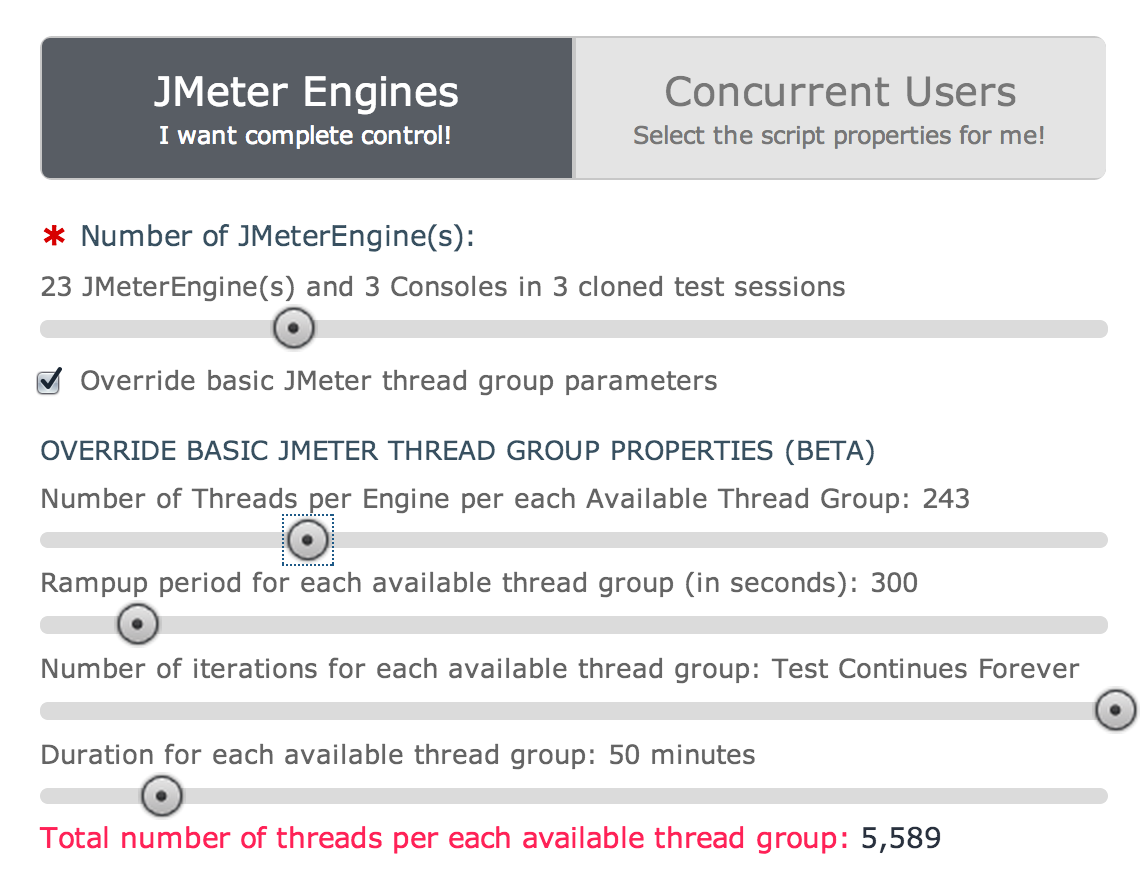 You're now ready to begin recording scripts from Google Chrome with the click of a button!


Download the JMeter Chrome Extension



FAQ:


Do I need to pay to use the extension?
The BlazeMeter Chrome extension is free to use for as long as you like.

Do I need a BlazeMeter account to use the extension?
A BlazeMeter account is required to convert the recording into a JMeter script (.jmx) file as this process is done on the server side. Any BlazeMeter account will work (free or paid). Signing up to BlazeMeter is super fast and doesn't require any sort of commitment or credit card.

How does the recorded script handle cookies?
The script will use cookie values from the original recording, though any new cookies values passed back by the server will override the values used in the original recording. You can disable this behavior altogether in the advance settings.