Adding a New JMeter Test-Plan
ADDING AND RUNNING A JMETER TEST-PLAN
1. Starting with JMeter test-plan
If you are are an experienced JMeter user, you can upload and execute your own JMeter test-plan. Make sure to login to www.blazemeter.com as an existing user and add the new test.
Upload your *.jmx file, containing the test-plan and
define how many JMeter engines you want to use during testing. You can always override basic parameters. Read
"Overriding Basic JMeter Parameters"
for a more detailed summary.

2. Setting Advanced Test properties

If you click "Advanced Test Properties", an additional section with JMeter parameters will expand. JMeter Console Command Line Arguments-for a quick overview, read the 'Apache JMeter User Manual', for reference.
Make sure that the JMeter version you choose is the same JMeter version of your test-plan, because different versions of JMeter can be incompatible between one version to another.
You can use medium or large servers to generate the load. A medium server includes 1.7 GB of memory and dual core processing. A large server includes 7 GB of memory, dual core processing and can sustain a much higher throughput. But a large server will consume twice the test credits as a medium server would.
The 'Session Time' parameter describes how long your test will take.

The "Delayed Start" check-box is useful when you don't want your test to run immediately.(Optimal when say, you still need some time to reboot the servers under test. So, if you set this check-box, the test will not begin until you manually arrange it by setting the following check-box: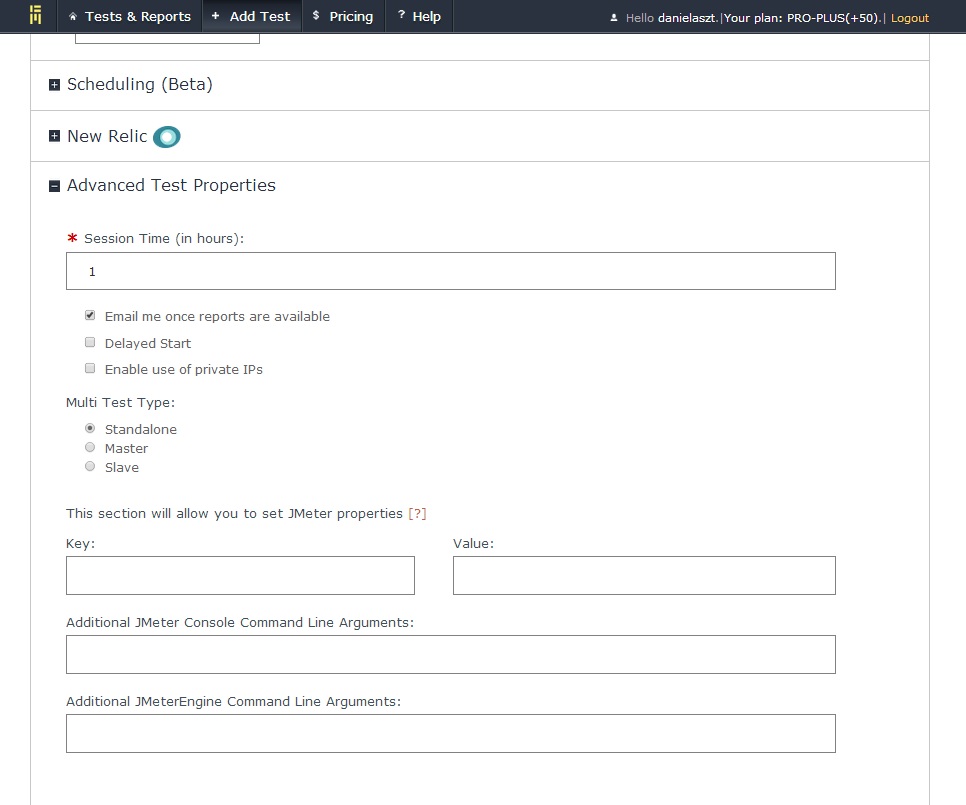 Another important BlazeMeter feature is the Multi Test Type.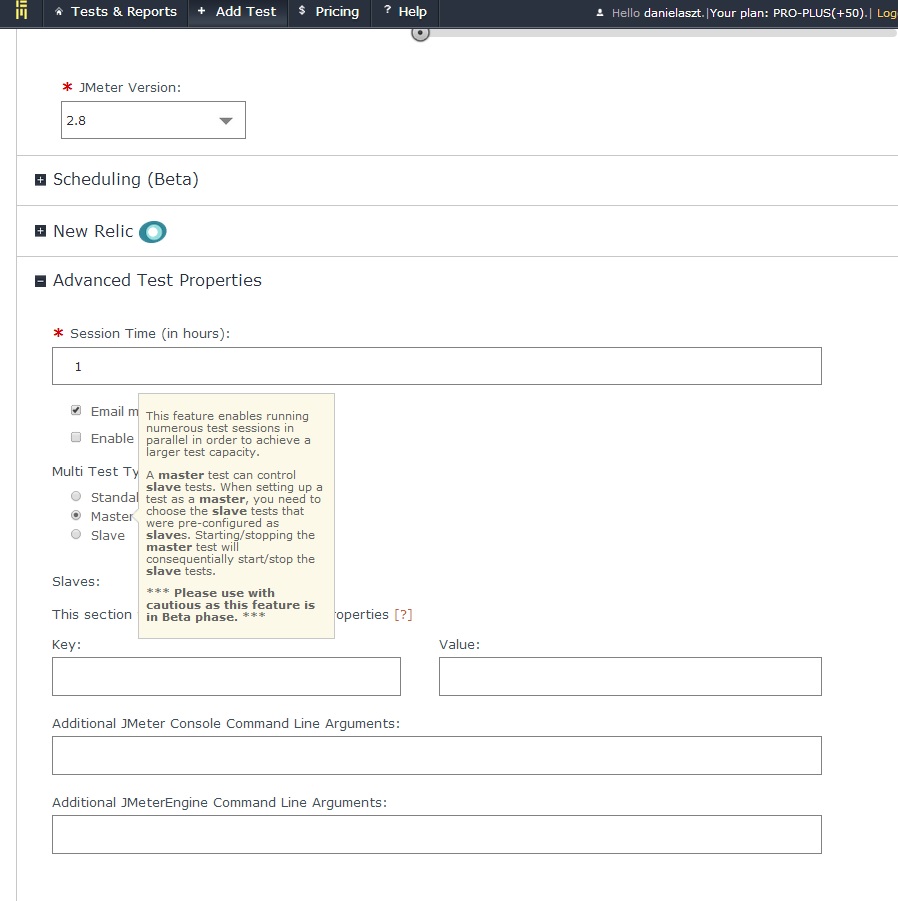 This functionality allows the test to run either a single test or several tests in parallel. If you set your test as master, you should select slave tests(they must be pre-configured).

A couple of words about "InstanceID Offset". This number is added to each InstanceID variable that is transferred to all JMeter engines and is used to avoid duplicating InstanceID.


3. Setting JTL properties
These options are explained in the 'Sample Save Results Configuration' article at Apache.org.
4. User Experience Monitoring with Selenium


You can use Selenium Automation Testing tool to visiting pages under load from a real browser, because Selenium simulates real users, not virtual users. To do this, first record the selenium script using
Selenium_IDE
, then
upload it or use automatic selenium scripting. After that specify one or more landing pages for the selenium script and save the test.